Eastern Bluebird Trails at Merrimac Farm WMA and Chinn Parkland - The Results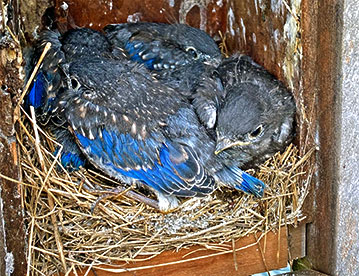 2020 Report for Merrimac Farm WMA
2020 Report for Chinn Parkland
Normal probably isn't the word most of us would use to describe 2020 and yet for the Eastern Blue Bird, it was just another year to feed and breed, to survive and reproduce.
And it was a good year for our dedicated volunteers to monitor the nesting boxes at Chinn and Merrimac Farm WMA, where we have 13 and 11 Bluebird boxes respectively. From April through August, community scientists visit these nesting boxes weekly and monitor as Bluebirds build nests, lay eggs, and raise young.
A natural rhythm and a welcomed normalcy worth celebrating. By the end of this breeding season, we counted 74 fledglings who spent their hatchling days in boxes we installed for them.
Below you'll notice that Chinn Park fledged more Bluebirds than Merrimac Farm. One likely reason for this is due to the differences in habitat. Chinn Park has more open grassy areas and woodland edges, ideal areas for hunting insects. Even though we install the nesting boxes for the Bluebirds, sometimes we find other species using them, such as Tree Swallows, House Wrens, and Carolina Chickadees.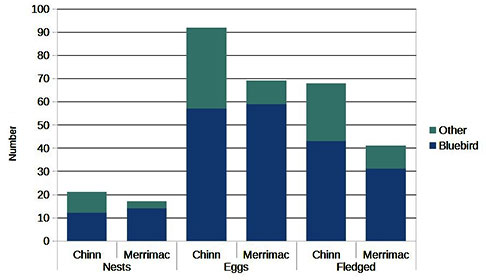 Our contribution adds to the national effort supporting Bluebirds and their continued rebound since their troubling decline in the 60s and 70s. Their continued success is linked to proper breeding habitat that we provide for them by protecting land use and installing boxes.
Our trail leaders and community volunteers collected data, which is used to better understand how to effectively construct, install, and maintain boxes and to continue to monitor the health of our feathered friends. Thank you, Janine Lawton, Kevin Parker, Eric Fagerholm, Donna Fagerholm, Jennifer Oelke, Marilynn Lambinicio, Rita Romano, Peggy Martin, and Tom Thraller, Kelly Auldrid, Susan Hunt, Phillip, Tricia and Seth Kellog, CC Megan and HC Lim, Morgan Velten, and Janet Wheatcraft!