Rural Crescent Forum - Looking to the Future

Join us on Thursday, March. 6, for a lively discussion on the value of protected rural areas and how they influence development in east Prince William.
Q&A from the audience follows short presentations from speakers: Charlie Grymes, PW Conservation Alliance; Stewart Schwartz, Coalition for Smarter Growth; Chris Price, PWC Planning Office; Jay Yankey, PWC Farm Bureau.
Read more...
Waterfall Road Proposed for Virginia Scenic Byway Designation


On Thursday, April 3, Lynn Crump, Environmental Planner with the Dept. of Conservation & Recreation, will share info about Virginia Scenic Byways... road corridors with scenic, historic, natural, recreational or other intrinsic qualities. More than 2,500 miles of roads are designated as Virginia Byways now, including many miles in adjacent Fauquier County. Read more...
More Delays for New Virginia Stormwater Rules?

After YEARS of discussion and delays, Virginia scheduled implementation of new stormwater regulations for July 2013 and later allowed a one year extension. Now slated for implementation on July 1 2014, Virginia is once again considering delaying the start date. Read more...

Before the Virginia Department of Transportation (VDOT) can move forward funding/building the Bi-County Highway, an Environmental Impact Statement must be finalized. The Federal Highway Administration (FHWA) must approve the analysis of alternatives and concur that the impacts of the new road have been considered. Read more...
Nokesville Christmas Bird Count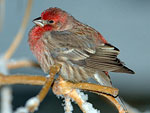 The Christmas Bird Count (CBC), let by the National Audubon Society, is the oldest and largest citizen science event in existence. The Nokesville survey area covers a diverse landscape covering the transition from coastal plain to piedmont ecosystems. Please join us on December 29, everyone is welcome! Read more...
Graves at the 12th High School Development Site

Oops, we discovered a graveyard AFTER approving the location of the 12th High School. Oops, we discovered a rare woodland habitat AFTER approving the new school at Silver Lake. There is a pattern because the county decision process has a fatal flaw - we don't do our homework before we approve public facilities. Read more...
Trees Planted at K9 Gunner Memorial Dog Park

On October 5 2013, more than 40 people turned out to plant trees, shrubs and flowers at the Minnieville Road Dog Park. Together we transformed the slope adjacent to the dog park and had a lot of fun too.
Read more...

Whether you live right next to a stream or miles away, your actions affect water quality. Stream Stewards pairs evening lectures with field tours to illustrate key concepts at familiar locations close to home. Read more...

Birders Identify 90 Species at the Nokesville Christmas Bird Count
Sunday, December 23. Birders at this year's Nokesville Christmas Bird Count saw clear skies and calm winds, with temperatures ranging from 20 degrees in the morning to a high of nearly 50 degrees. Together volunteers identified 90 different species of birds and nearly 13,000 individuals. Read more...
Our plan to to transform the back yard of the Merrimac Farm Stone House into a diverse habitat for birds, butterflies, frogs and more is looking good! We have two work days scheduled and are seeking donations of plant species included on the plant list. Read more...

After 40 years of public ownership with no public access... Read more...

You can help create an urban home for birds, bees and butterflies by adding some plants that wildlife prefers to your backyard. If your neighbors follow suit, you have the start of a pollinator pathway! Read more...