Eastern Bluebird Trail at Veteran's Park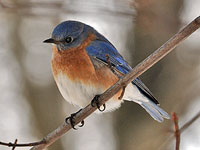 Volunteers make sure all is well, address problems as needed, and record information about activity in each of the nesting boxes included in the Chinn Park Bluebird Trail. Volunteers follow a protocol to ensure birds nesting in the boxes are not disturbed.
Not all nesting boxes provide a safe refuge for Bluebirds. Bluebirds have many predators, including snakes, raccoons, ants, squirrels and cats. Also, other birds, such as House sparrows, starlings, wrens, chickadees, and tree swallows, compete for available nesting sites. Successful nesting boxes are constructed to protect Bluebirds from predators and discourage competition from other species.
Generally, Bluebirds lay four to seven eggs. These hatch in approximately 14 days. About 14 days after hatching, Bluebirds begin short flights and leave the nest soon after. In Virginia, Bluebirds produce two or three broods each year.
Both parents feed and care for the young. During the summer, Bluebirds eat grubs, caterpillars, beetles, grasshoppers, crickets, and other insects. In late fall and winter, they depend on wild fruits, such as crabapples, poison ivy berries, sumac, elderberries, and cedar berries.