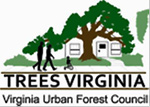 If you are a site plan reviewer, landscape architect, arborist, parks planner, grounds maintenance staff, environmental planner, property manager or engineer whose work includes making life and death decisions about trees, this hands on workshop is for you!
Join your colleagues for a great day of hands-on, dirty and satisfying work studying roots. You will be a team member digging to excavate roots from a variety of tree species and sizes growing in common conditions of grass, mulch, near sidewalks, etc. After lunch, each team will present their findings and discuss implications.
Dress for getting dirty and for the weather. Bring your own tools, such as a hand trowel, garden fork, long handled or short handled pointed shovel, stiff whisk or brush to expose finer roots, garden/work gloves, boots, water bottle, sunscreen, etc.
Questions? Becky Woodson, 434-220-9024, becky.woodson@dof.virginia.gov