Explore Neabsco Creek and the Potomac Heritage National Scenic Trail

Meet at Neabsco Regional Park, 15125 Blackburn Road, Woodbridge 22191
Saturday, June 18, 10:00 to 11:30am
Register here | Contact us here.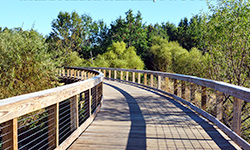 Join us for an easy 1.5 mile walk down the Boardwalk (ADA compliant) exploring Neabsco Creek. This creek has been settled for nearly 20,000 years, from the Paleo-Indians to today's residents, like us. In 1608, fish were so plentiful in the Potomac River that the English tried to catch dinner by swinging a frying pan from their boats.
In the mid-1700's, Northern Virginia's first industrial development was the Neabsco Iron Works located just upstream of the modern I-95 bridge. After cutting the forests for charcoal and tobacco, soil eroded and created the mudflats that we will cross.The views are spectacular, bring your camera and binoculars if you have them.
Bird Walks at Merrimac Farm WMA
On the last Sunday of every month at 8am (except December when we sponsor the Nokesville Christmas Bird Count) at Merrimac Farm, Stone House, 15014 Deepwood Lane, Nokesville, directions
We'll look for birds as we travel through the uplands to the edge of the floodplain, covering a variety of habitats, including open fields and woodland edges. Everyone is welcome.
Dress for the weather, bring binoculars and cameras. More info and RSVP to PWCA , 703.499.4954 or alliance@pwconserve.org. View the bird list for Merrimac Farm HERE.