Annual Butterfly Count, Manassas Circle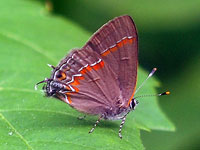 August 6, 2017 -- Led by Prince William Conservation Alliance, 29 butterfly enthusiasts formed teams and surveyed a 113,000 acre territory centered at Manassas Airport on August 6. Our goal was to identify and count butterflies.
It was a rewarding experience for all. Volunteer Dave Govani says, "It's always a pleasure to participate with like-minded individuals in a meaningful citizen science activity that is both fun and a learning experience."
All told we saw 49 different species and 703 individuals. Highlights included some caterpillars - two Black Swallowtails and five Silvery Checkerspots.
With 111 sightings, Zabulon Skippers were the butterfly of the day. Cabbage Whites came in second, with 60 individuals, followed by Pearl Crescents and Silver-spotted Skippers.
We spotted a lone Juniper Hairstreak at Merrimac Farm WMA and were excited to find an American Snout at Manassas National Battlefield Park. We found Sachem Skippers and Eastern Tiger Swallowtails in every survey sector.
After the count, we tallied the results and provided our data to the North American Butterfly Association for inclusion into their nationwide database. Scientists and others use this data to understand more about butterfly populations, and the impacts of habitat losses and climate changes.