Eastern Bluebird Trail at Merrimac Farm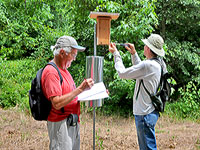 Throughout much of the twentieth century, populations of the Eastern Bluebird (Sialia sialis) fell or even disappeared in much of their range, to the point that, at one time, some concerned observers feared the possibility of the extinction of this once-common songbird.
However, in recent years, Eastern Bluebirds have made a nearly miraculous recovery, due in part to the proliferation of nesting boxes built, placed and maintained by people from the Rockies to the Atlantic.
At Merrimac Farm Wildlife Management Area, PWCA has established a series of fifteen nesting boxes to help increase the local bluebird population, both to benefit the birds and provide opportunities for visiting birdwatchers and nature enthusiasts to view this beautiful native species.
We monitor these boxes on a weekly basis during breeding season to provide information on local bluebird populations and reproductive success, as well as providing an opportunity for volunteers to get experience with in-the-field conservation efforts.
2013 has been a great year for bluebirds nesting at Merrimac Farm, with a total of forty one eggs produced so far, and already three chicks successfully fledged. This year, besides the bluebirds, we have Tufted Titmice, Carolina Chickadees and Carolina Wrens utilizing the nesting boxes.
Although we monitor the nesting boxes only during breeding season, they and the habitat surrounding them will remain a draw to bluebirds throughout the year.
Visitors interested in bird watching should observe them (without approaching or disturbing the nest boxes themselves) to have a chance to see them. During the breeding season, you might even have chance to watch the birds build their nests, feed their young, or if you're very lucky, see a new generation of bluebirds fledge and spread their wings for the first time. Click here to continue reading about bluebird trails...