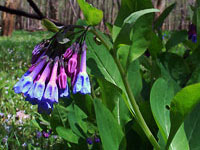 2010 Bluebell Festival
Nearly 700 people enjoyed nature walks, examined frogs and turtles, and explored skins and skeletons of local mammals at Merrimac Farm Wildlife Management Area at the third annual Bluebell Festival. The Bluebells were at their best, the sun was shining and it was a great day to be outdoors.
This was the third Bluebell Festival at Merrimac Farm, which began in 2008 to celebrate the preservation of this important site. Many thanks to the U.S. Fish & Wildlife Service, BR Associates, the Prince William Wildflower Society and the Prince William Art Society for their support. Read more...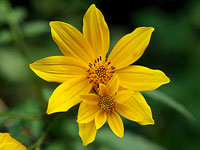 Preliminary Plant List Now Available
There are a great many different plants and it is fun to know their names. Some are well known and others are difficult to identify. A list of plants that people have seen in a general area or a particular site helps narrow the search and confirms the presence of specific plants.
We put together a list of the plants we and others have seen during tours of Merrimac Farm. The list is not complete, but it is a pretty good start and we hope it helps you learn more about the interesting and beautiful plants at Merrimac Farm and throughout Northern Virginia. Click here to view the preliminary plant list.