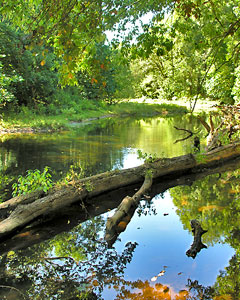 Merrimac Farm is a 302-acre Wildlife Management Area located in Nokesville, Virginia, about 35 miles SW of Washington, D.C. Click here for directions. It is one of 39 Wildlife Management Areas owned by the Virginia Dept. of Game & Inland Fisheries.
Merrimac Farm includes more than one mile of frontage along Cedar Run, a 7-acre island and boasts one of the largest patches of Virginia Bluebells in the Northern Virginia region.
It includes more than 100 acres of contiguous wetlands protected by 200 acres of hardwood forests and upland meadows, at the headwaters of the Occoquan Reservoir and adjacent to Cedar Run.
Merrimac Farm connects Quantico Marine Corps forests and wetlands with the 300-acre Cedar Run wetland mitigation bank. This connectivity enhances the conservation values of all parcels.
Conservation of this ecologically significant property secured a high quality Northern Virginia natural area for public use and supported Virginia's commitments to restore the Chesapeake Bay through a unique partnership.
Wetlands and vernal pools, upland fields and hardwood forests come together at Merrimac Farm, creating a diverse habitat mosiac that supports a variety of wildlife. It's a great place to explore nature all year round. In mid-April, the floodplain wetlands along Cedar Run are blanketed with Virginia Bluebells, not to be missed.
Every visit is a new experience. Upland areas differ significantly from the floodplain wetlands. Planning different routes for your visit will let you expore new habitats and a broader diversity of plants and animals.
Plant and wildlife links on this page can help you figure out which areas you'd like to visit. Click here for a trail map and here to read more about wildlife at Merrimac Farm Wildlife Management Area.