Possum Point Road:
June 17 2005 Meeting - Still Crazy After All These Years
Despite the odds, Possum Point residents have persisted with efforts to protect their property rights and Quantico Creek. On June 17, 2005 , another meeting was held to discuss the problems caused by development on the Cherry Hill Peninsula . Unlike previous meetings, participants included representatives from both local and state level oversight agencies.
When localities do not respond to problems in a timely manner, citizens are compelled to elevate their concerns to the next level. One way to do this is by contacting the appropriate state level oversight agency. The Virginia Dept. of Conservation and Recreation oversees Prince William's stormwater and erosion programs; programs which have been problems on Possum Point Road since Southbridge began construction about five years ago.
Possum Point Road residents have serious concerns. In March 2005 the Potomac News reported that "Dumfries residents asked the Planning Commission to provide money to fix the growing flooding problem caused by recent residential development approved by Prince William County next to Possum Point Road, where Claudia Smith said she's lived for 50 years. Only in the past four years have quick rainfalls held her hostage in her own home, she said. Even a 20-minute downpour, coupled with the Potomac River's high tide, can cause a flood that shuts down Possum Point Road, she said."
The June 17 2005 meeting was a result of Possum Point resident Leo Sentiger's letter to Joe Maroon, Director of Virginia's Dept. of Conservation and Recreation (DCR), whose agency oversees Prince William's erosion and stormwater programs. Residents and other concerned citizens greatly appreciate Mr. Maroon's quick response to concerns about drainage and flooding problems in the vicinity of Possum Point Road.
The meeting included an indoor discussion and a field visit to Possum Point Road . Participants at this discussion included: Uwe Kirste and Wade Hugh from Prince William County Public Works,; David Witlow and Julius Scroggins from the Town of Dumfries; Mark Aveni, Gary Switzer and Kelly Vanover from DCR's Warrenton office; Lee Hill and Eric Capps from DCR's Richmond office. The only citizen invited to the meeting was Leo Sentiger, who was allowed to bring one neighbor, Barbara Tennant.
In this meeting Prince William Public Works officials confirmed that their watershed study, initiated in response to citizen outcry about stormwater issues, was focused on the Dewey Creek watershed. Although the County had informed residents that fixes must wait until the study was completed, the great majority of affected homes on Possum Point Road lie outside the Dewey Creek watershed making it difficult to understand how the study can help solve resident's problems.
County representatives again agreed to revisit the approved site plan, including a quantitative assessment of pre- and post-development stormwater for the Possum Point residents not in the Dewey Creek watershed. DCR representatives put forward a two-step solution: mitigate excessive water runoff from the Southbridge development to protect existing homes and then address problems on Possum Point Road if stormwater fixes fail to prevent flooding.
At the meeting, DCR Representatives Marc Aveni and Lee Hill said they intend to have another meeting to review the data provided by the Prince William County and Town of Dumfries . Afterwards they plan to have a public meeting in order to allow public review and discussion.
After the meeting, the DCR representatives made a site visit Possum Point Road to review existing conditions. There they were greeted by Possum Point Road residents Ralph Gruen, Sam Harrison, Tim Robinson, Dan Revermann and Leo Sentiger along with PWCA members Bill Olson, Marilyn Schultz and Kim Hosen, long time supporters of community watershed initiatives. Prince William County's Uwe Kirste and Wade Hugh were noticeably absent from the site visit segment of the meeting, as were David Witlow and Julius Scroggins from the Town of Dumfries.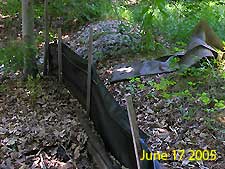 The DCR representatives first examined the slope behind Mr. Sentiger's house, where they noted that rainwater flowing off the Southbridge property was being shunted into a wide channel. Although the plan shows a series of terraced ledges to slow the headlong rush of water, the reality is a 45 degree slope with black silt fences propped up by chain link fences. "What are these still doing here?" was DCR Representative Marc Aveni's comment upon seeing the silt fences.
Aveni initially felt that the area "doesn't look that bad," commenting that gullies and other signs of erosion problems were not readily apparent. Bill Olson noted that the weedy vegetation hid significant drainage issues noting that erosion problems were clearly visable in March and April before spring growth masked the problems. He pointed to areas where stormwater had undercut the remaining super silt fences (black silt fences backed by chain link fencing) and other signs of drainage problems.
During the field visit with DCR representatives, residents expressed a great deal of concern about impacts to Quantico Creek and the surrounding wetlands area as well as their houses and the road. The creek and surrounding wetlands were obviously being filled in by the silt from new development. Said one resident, "When I was a kid you could swim across Quantico Creek from shore to shore, now you can walk across it and your feet will barely get wet."
DCR emphasized their view that the filling in of Quantico Creek was a separate issue from problems associated with existing homes and Possum Point Road. Despite the clear linkage, they said impacts to Quantico Creek must be solved separately. DCR representatives conveyed that efforts to mitigate impacts to Quantico Creek from the Southbridge/Swann Creek development must be accomplished through a separate, citizen initiated effort.
The solution for Quantico Creek, DCR's Lee Hill said, must begin with development of a watershed management plan, a task easy to complete but difficult to implement. "I could give you a watershed management plan tomorrow, but you wouldn't like it," he said. The best opportunity for citizens, Hill said, was to complete a watershed management plan and work to build the partnerships needed for implementation.