Why is the Cherry Hill Peninsula Environmentally Significant?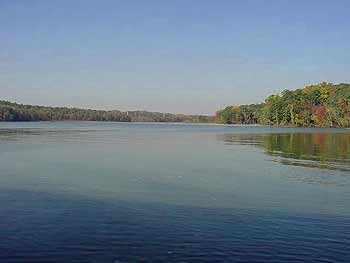 Powell's Creek taken from the railroad bridge crossing Leesylvania State Park, showing the Cherry Hill Peninsula to the left
The Cherry Hill Peninsula is one the few remaining forested tracts of significant size in eastern Prince William County. This 1,800-acre forest is also the last unprotected large riparian forest along Northern Virginia's Potomac River shoreline. As Northern Virginia's population increases, Cherry Hill's environmental and economic values become increasingly significant.
Populations of many forest avian species, such as vireos, warblers, and wild turkeys, have declined due to increased fragmentation. As many as 35 species of warblers, 25 species of ducks, geese, and swans, 24 species of raptors, 15 species of sparrows and many other avian species use the area during migration and nesting. Currently an pair of endangered bald eagles nest in the northern section of this peninsula.
The site provides habitat for a wide variety of native plant species, including the endangered small whorled pogonia ( Isotria medeoloides ). All of the mammal species native to Virginia's coastal plain may be found on the Cherry Hill Peninsula. The Powell's Creek and Quantico Creek estuaries provide nurseries for aquatic organisms and make a significant contribution to the health of the Potomac River and the Chesapeake Bay. Prince William's rampant development has resulted in small remaining pieces of ecosystems so isolated that some plant and animal populations can no longer survive.
Regionally, Cherry Hill provides a critically important link in the chain of threatened ecological communities along the tidal Potomac. The loss of this area to development is likely to have a cumulative negative impact on the viability of natural systems well beyond the peninsula itself. The undeveloped Cherry Hill Peninsula significantly enhances the value of the use another word. of the Mason Neck National Wildlife Refuge, the Occoquan Bay National Wildlife Refuge and Leesylvania State Park, relatively small areas that are becoming increasingly isolated by development.
The Original Rezoning for the Southbridge/Harbor Station Project at Cherry Hill
In January 2001 the Prince William County Board of Supervisors approved two rezonings and one special use permit for 1740-acres located on the Cherry Hill Peninsula (adjacent to the Potomac River between Powells and Quantico Creeks).

Voting to Deny: Connaughton (At Large), Caddigan (Dumfries), Griggs (Occoquan).
Voting to Approve: Barg (Woodbridge), Jenkins (Neabsco), Hill (Coles), Wilbourn (Gainesville), Thompson (Brentsville).
The approved development package included:
2,600 homes
3.7 million sq. feet of office and retail
18-hole golf course
40% of site committed to 'undisturbed space' (includes power line easements, school and library grounds, other common space)
Elementary school
Community fitness facilities (with related retail)
Public library
Cultural arts center
Equestrian center
Extensive proffer packages included phasing for development over 20-year period.