High Density Development
One addition to the 2003 Comprehensive Plan is the Mass Transit Node (MTN) land use category, which recommends very high densities to areas around transit hubs. Theoretically, this high-rise recommendation is a 'smart growth' strategy modeled on Arlington County's successful efforts to relocate development around transit, which increases access to services and helps reduce traffic congestion. Relocate is the key word. The intent is to move sprawling development densities FROM outlying areas TO areas where transportation and other services are available.
The text included in the 2003 Comprehensive Plan allows the high densities around "transit nodes." It does not, however, reduce densities anywhere else, such as in outlying or environmentally sensitive areas. On balance, the 2003 Comprehensive Plan includes greater residential densities countywide than in 1998.
How high are the densities for Mass Transit Nodes? Originally, Planning staff recommended a minimum density of 30 units/acre for a one-mile radius around the "mass transit node." For one square mile (640 acres), the math says this means an additional 19,200 residential units . . . for just one Mass Transit Node area. For example, KSI's Springfield Station project is about 30 units/acre. This means one eight-story building with 107 residential units and seven four-story garden-style apartments with 240 units built on ten acres. This is a lot of density to add to the Comprehensive Plan without reducing planned units elsewhere.
Many developers expressed their concerns about the planned minimum density of 30 units per acre at the 2003 Comprehensive Plan Public Hearing. They requested that government consider a more flexible definition for the Mass Transit Node category. As a result, elected officials opted to defer decisions on the Mass Transit Node criteria to a later date.

The Comprehensive Plan, page 3 of the Land Use sections, states: "One of the primary intents of these urban designations is to encourage development at densities high enough to bring regional mass transit to Prince William County and better link the County to its region via mass transit."
The County's plan appears to be based on the "if you build it, they will come" concept: (1) build high-density developments, (2) which will exacerbate Prince William's current traffic congestion problems, (3) a miracle will occur and the Commonwealth will extend metro to Prince William.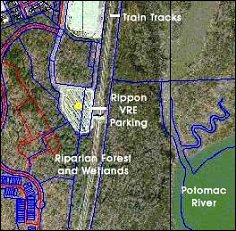 Where are Prince William's "mass transit nodes?" With no text or mapped descriptions to identify the sites, it's difficult to tell. Indeed, considering the limitations that restrict VRE's time schedule, some Prince William citizens have questioned whether Prince William has any "mass transit nodes" at all.
Even if high-rise high-density projects could eventually attract transit options to Prince William, what happens in the meantime? The added densities would guarantee even more traffic congestion for existing residents. Plans to encourage high-density development without regional commitments for high-frequency transit in Prince William put the cart before the horse.