We lucked out on the weather! There was no rain all day and the bluebells were spectacular, as expected. Nearly 100 people came to see the property and we had a great time. Click here to read the article in the Potomac News.
Both tours began at the farmhouse, located in the upland portion of the property. The diversity of habitats - upland forests, nontidal wetlands and one mile of floodplain along Cedar Run - is one reason why Merrimac Farm is such a great place to watch wildlife.
Transition landscapes provide many different habitats, which attract a variety of wildlife. Merrimac Farm's upland areas buffer and protect protect significant floodplain forests, some of the most productive ecosystems on Earth, along Cedar Run.
We've been trying to conserve Merrimac Farm for public use. It's a team effort and conservation partners from Quantico Marine Corps Base and the Virginia Dept. of Game and Inland Fisheries were on hand to help lead the tour. Everyone was especially delighted to see Gail McDowell, one of the current landowners, who flew in from California especially for this tour.
Gail talked about her family's desire to honor their father's conservation legacy in Prince William County and ensure that this outstanding spot to watch wildlife in Northern Virginia is protected for public use. Then we were off on a hike to the wetlands and Cedar Run.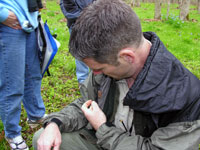 We walked along the forest edge, stopping along the way for a closer look at birds and other wildlife. As we approached the wetlands, a spring peeper hopped right onto DGIF tour guide Steve Living giving everyone an opportunity for a closer view of this small frog that is often heard but rarely seen.
At the edge of the wetlands (100 contiguous acres!) we paused to visit the French family cemetary. It's nestled in the woods and can be hard to find except in spring when the blooms on vinca minor, sometimes called cemetary ivy, are a visible marker.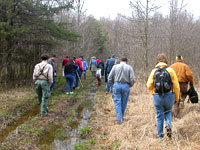 After that, we traveled down the road, which quickly became quite muddy, and entered the wetland area. Many people think of standing water when they think of wetlands, but that's not always the case. Some wetlands are submerged for only parts of the year. The water table is the key: water must be close to the surface of the ground for a long enough period of time to cause changes to the soil.
In upland areas, soil particles under the ground are surrounded by air. In a wetland, they are surrounded by water and this difference affects the characteristics of the soil. Only certain types of plants can grow in wetland soils, which is why they are used as a criteria to identify wetlands.
As we neared the forested floodplain, small patches of Virginia bluebells began to appear along the banks of intermittant streams as we neared the forested floodplain. After that, it was just a short distance to Cedar Run, where the bluebells literally cover the ground for as far as the eye can see. Merrimac Farm protects approximately one mile of forested floodplain, and it's all carpeted with bluebells in early spring.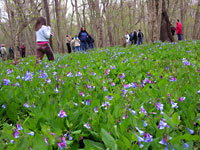 It's quite a sight! We paused here for some time so everyone could explore this special area, take photos and enjoy the beauty of nature at its finest. This tranquil setting provides a welcome relief from our hectic Northern Virginia lifestyle for all ages.
We greatly appreciated the opportunity to provide this tour, thanks to the McDowell family. We were delighted that so many residents from throughout the region were able to attend and hope that this tour was just the first of many!
Click here to view photos from the April 14 2007 tour of Merrimac Farm.