Click here for info about the April 14, 2007 tour!
The spectacular Merrimac Farm covers more than 300 acres, including more than one mile of shoreline along Cedar Run, a 7-acre island and one of the largest single patches of bluebells in Northern Virginia.
Merrimac Farm has more than 100 acres of contiguous nontidal wetlands, the fastest dwindling category of wetlands Nationwide. Vernal pools, which are particularly important to amphibians and migrating waterfowl, can be found throughout the site.
Merrimac Farm connects Quantico Marine Corps forests and wetlands with the 300-acre Cedar Run wetland mitigation bank. This connectivity increases the conservation values of all parcels and makes Merrimac Farm particularly important from an ecological standpoint. Conservation of this ecologically significant property would also protect Quantico Marine Corps Base capacity to complete their military mission.
Merrimac Farm lies along Cedar Run, at the headwaters of the Occoquan Reservoir. Both these waterways are included on Virginia's dirty water list. Protecting Merrimac Farm also means that we are protecting our water supply by preserving the natural space that filters pollutants before they enter our rivers, streams and reservoir.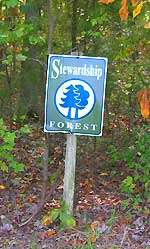 Col. Dean McDowell purchased this property nearly fifty years ago. He managed the land for wildlife diversity and operated Merrimac Farm Hunting Preserve until his unexpected death in February 2001. Col. McDowell was a lifelong hunter and conservationist. He supported numerous conservation organizations in addition to campaigning against uncontrolled suburban sprawl in the Cedar Run watershed bordering the Quantico Marine Corps Base.
The objectives of the Prince William Conservation Alliance efforts to preserve Merrimac Farm are to (1) protect more than 100 acres of contiguous, nontidal forested wetlands and associated vernal pool system from development, (2) preserve this property in perpetuity as a watershed management area in a manner that allows public uses for youth education, passive recreation, hunting education and outreach programs aimed at increasing support for restoration of the Chesapeake Bay.
Conservation of this ecologically significant property would open a beautiful and ecologically valuable Northern Virginia natural area for public use, directly support Virginia's commitments to restore the Chesapeake Bay tand help preserve a buffer around Quantico Marine Corps Base, an important part of economic development in Prince William.