Merrimac Farm Bluebell & Wildlife Tour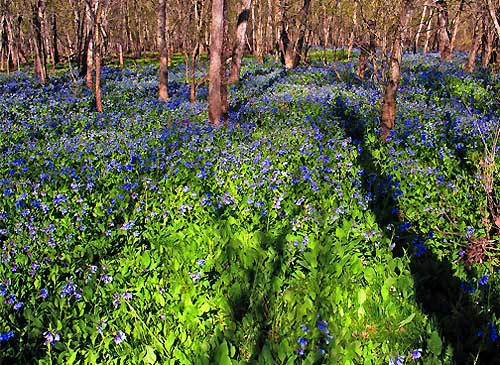 WHEN: Saturday, April 14 from 10:00 a.m. to Noon and 2:00 p.m. to 4:00 p.m.
WHERE: Merrimac Farm, 14712 Deepwood Lane, directions
RSVP: Please let us know you're coming! Email Kim Hosen at alliance(at)pwconserve.org or call 703.499.4954
Virginia Bluebells carpet Cedar Run's floodplain for nearly one mile at Merrimac Farm! It's a spectacular sight, join us on April 14 to see for yourself.

Rich floodplain soils provide prime habitat for Virginia bluebells. With more than 100 acres of contiguous forested wetlands along Cedar Run, Merrimac Farm boasts large communities of bluebells, which carpet the floodplain in a spectacular display of blue that rivals the well-known patches along Bull Run!
The bluebells are stunning and, in addition, Merrimac Farm's high quality habitats are home to a diversity of wildlife. During the tour, we will walk from the upland area down into the floodplain to Cedar Run. Along the way, tour guides will share information about Merrimac Farm's wildlife habitats and we'll all be on the lookout for birds, frogs and more.
Bring your family and friends, enjoy the bluebells and find out more about why Merrimac Farm is important to conservation efforts in Northern Virginia. Please note that Merrimac Farm is undeveloped and facilities are minimal (i.e., no rest rooms). Trails are primitive, so visitors should be prepared for occasional muddy spots as well as wildflowers. Children are welcome and we appreciate everyone's efforts to keep to established trails, which will help protect Merrimac Farm's high quality habitats.
The Prince William Conservation Alliance along with partners, including the McDowell family, Virginia Dept. of Game and Inland Fisheries and Quantico Marine Corps Base, has been working for five years to preserve Merrimac Farm for public use. Today, although Merrimac Farm is still closed to the public, we hope a successful outcome will open Merrimac Farm to Virginia citizens in the near future. We are delighted to have the opportunity to provide a public tour of this property on April 14!
Please RSVP so we can make appropriate arrangements for parking and tour guides! To let us know that you're planning to attend, please email Kim Hosen at alliance(at)pwconserve.org or call 703.499.4954.