Lake Manassas - Opened to the Public in 2010?

Fish come and go, but it is the memory of afternoons on the stream that endure. — E. Donnall Thomas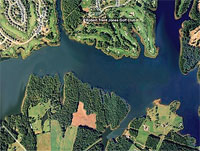 Lake Manassas has been closed to public use for 10 years after the city ended a franchise agreement with a private marina. For about 30 years before the closure, the lake was one of the most popular fishing spots in Northern Virginia.
July 22 2010 -- Lake Manassas public access at risk
Currently, despite significant support offered by partners, the Manassas City Council is poised to close the door on a unique opportunity to open Lake Manassas to the public.
The Virginia Dept. of Game & Inland Fisheries (DGIF) has committed $100,000 to build a boat ramp, parking lot and finger pier. They would also contribute an operations stipend to offset costs for a concession stand and monitor the Lake.
The developer of the Saranac community on Lake Manassas wants to donate land for a public access point. They have been working diligently but without success to gain access to the Lake for their development, as allowed in the property deed. Their offer to donate land confirms their preference to open the Lake through partnerships, not litigation.
However, after two years with no forward movement, the developer is tired of waiting. They have now signaled their intent to move forward with a lawsuit to gain access to Lake Manassas for their community IF the City does not accelerate their efforts to open the Lake.
George Mason University is interested in operating the concession stand required by the City Council, but their business plan for the first year shows expected revenues of $40,600 and operating expenses of $57,000, a gap of $16,400.
The City Council says $16,400 is too much money to invest in opening the Lake… but they're ready to spend considerably more for a lawsuit to keep the Lake closed. Councilmen are not convinced that opening Lake Manassas would be an asset to their community, saying very few City residents would benefit. Forgetting tourism goals, they question why Manassas should incur expenses that would benefit nonresidents.
In the meantime, everyone must travel to the Occoquan Reservoir or one of the many other Virginia reservoirs that are open to the public with no restrictions. Lake Manassas is a significant Virginia recreational amenity.
According to the Virginia Outdoors Plan, Northern Virginia residents say access to water is a top recreational priority. The Plan specifically encourages partnerships to make additional waterfront resources available for public use.
At Lake Manassas, all partners are committed… except for the Manassas City Council. Will Councilmen take advantage of a golden opportunity to provide public access or will they instead chose a costly lawsuit to keep the Lake closed?
In the words of lifelong angler and conservationist Ron Moody, "Public access to public land is the focal point." Email CityClerk@ci.manassas.va.us to let the Manassas City Council know you support opening Lake Manassas.

December 7 2009 -- The Manassas City Council reviewed the status of Lake Manassas in a work session. The Virginia Department of Game and Inland Fisheries (DGIF) has proposed to acquire public access and build a boat ramp at the lake, using Federal Sport Fish Restoration grant money.
Acting on a motion by Marc Aveni, City Council voted unanimously to direct the Utilities Commission to continue negotiations with DGIF to open Lake Manassas to public use. No deadlines were set, and city officials still have concerns regarding water quality, access control, and costs – but as Mayor Parrish note, "It's a turning point." Keep reading...
December 2 2009 -- The Manassas City Council will discuss opportunities to allow public access to Lake Manassas during a special work session on Monday, December 7, 5:30 p.m., at the Public Works building, 8500 Public Works Drive, Manassas.
Under the current proposal, Game & Inland Fisheries would assume responsibilities for managing surveys, stocking the lake and law enforcement. They would also construct a low-impact gravel parking lot, boat ramp and finger pier for launching and retrieving boats. Keep reading...