Dove's Landing Named a Top Conservation Priority by Smart Growth Alliance!
Click here for links to the report & more information.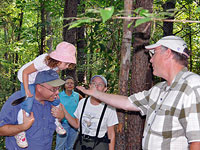 October 22 2008 -- The Washington Smart Growth Alliance today announced that Dove's Landing in Prince William County is a top environmental target of the Regional Conservation Priorities, recognizing the local values and regional significance found at this 225-acre property along the Occoquan River.
The Smart Growth Alliance, based in Bethesda, MD, publishes an annual report listing top conservation priorities in the National Capital Region. This program aims to promote conservation initiatives that contribute most to our future quality of life. The report notes that, by 2030, our region is expected to increase by two million people and more than 1.6 million jobs, adding pressure to historic sites and natural environments. (The time to act is now.)
According to Sam Black, president of the Alliance, "Dove's Landing was selected because it has been publicly owned for more than a decade but is not fully protected or available for general use." Dove's Landing is one of six priorities for 2008 identified by the Alliance.
Dove's Landing joins last years recognition of Merrimac Farm as a conservation priority. Prince William has been fortunate to receive this honor two years running! Read more...

Dove's Landing is a 235-acre undeveloped Prince William County Park located at the confluence of the Occoquan River and Cedar Run, upstream from Lake Jackson.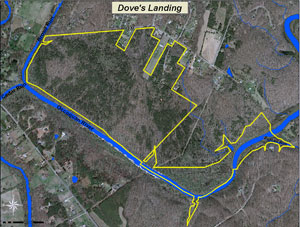 The Prince William County Board of Supervisors originally purchased the property in 1996, after a developer tried to force the county to purchase increased public access rights.
Since that time, the property remained vacant, with a "Public Land - Keep Out" sign posted at the boundary for nearly 20 years. It was opened to the public in the fall of 2015.
Dove's Landing protects a one-mile buffer along the Occoquan River, which flows into the Occoquan Reservoir . The property encompasses at least two high quality wetland areas as well as significant floodplain and upland forests.
Dove's Landing is centrally located in the county, one mile from the intersection of Prince William Parkway and Route 234. Opening this public land to public uses would provide Prince William residents with a high quality site for walking in the woods on natural trails, wildlife watching and other passive recreation opportunities.
The County already owned the property, and minimal improvements were required to open it to public use. Dove's Landing was an opportunity for Prince William County to provide high quality services to residents at virtually no cost to taxpayers.
On June 29, 2007, specialists from the Prince William Conservation Alliance and the Prince William County Park Authority walked the eastern portion of the property. Everyone was impressed with the quality and diversity of wildlife habitats. Existing trails are located outside the Resource Preservation Area, minimizing negative impacts to the Occoquan River while still providing a view of this beautiful waterway. The gently sloping landscape, open forest and scenic appearance create inviting and accessible conditions for residents of all ages.
Click here to view our preliminary plant list and here to view photos of our public tours at Dove's Landing.