Powell's Creek Lime Spill; December 3, 2004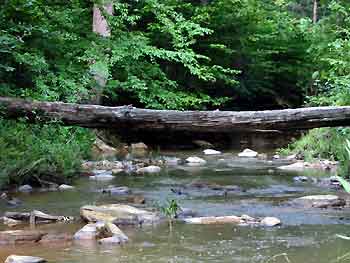 Powell's Creek, site of a recent lime spill, is one of Prince William's most valuable natural resource areas.
In 1992 the Virgnia Institute of Marine Science's study of tidal tributary streams along the Potomac River identifice Powell's Creek tidal wetlands as one of the highest quality habitats of its kind in the Northern Virginia area.
Powell's Creek has a Natural Heritage Watershed Priority Ranking of "High" and an EPA Nonpoint Source Pollution Potential Ranking of "High."
Powell's Creek faces more challenges than one lime spill. Just a few years ago, about 20% of the 18-square mile Powell's Creek watershed remained undeveloped and wetland areas were largely intact.
However, in 2001, imminent development of the remaining undeveloped parcels in the watershed clearly threatened to change the face of Powell's Creek. The rezonings included little protection for the environment and Prince William Conservation Alliance (PWCA) members were concerned that problems could follow close behind.
What to do? After much consideration, we opted to fund a baseline assessment study to document current conditions in the Powell's Creek estuarine area. George Mason University freshwater ecologist Dr. Chris Jones completed the study in 2001, which is posted on our website at www.pwconserve.org.
We felt strongly about Powell's Creek and recognized its value to Prince William citizens. Boating down Powell's Creek can be a surprising experience for residents who think they must travel out of the county for quality water activities. It is still possible to canoe a considerable distance up Powell's Creek during high tide. One can travel nearly all the way to the power lines that marked the downstream limit of the fish kill from the lime spill.
Many different plants line the banks, giving the area the appearance of a wild garden populated with butterflies and dragonflies. Herons and egrets are a common sight. Bald eagles nest along the shoreline. As many as 35 species of warblers, 25 species of ducks, geese, and swans, 24 species of raptors, 15 species of sparrows and many other avian species use the estuarine area during migration and nesting.
Powell's Creek is a place for adventures. There is a lot to see and it's easy to forget the time. A few years ago, a group of local youth took a canoe tour of Powell's Creek. Enchanted by the area and new to boating, they stayed on without regard to the tides. Upon leaving they found the situation much changed and arrived home several hours late, covered from head to toe in mud and full of tales from an exciting day.
Protecting our tidal wetlands and other natural resources improves our overall quality of life and has tangible economic benefits. For wildlife, protecting natural areas does more than improve quality of life: it makes life possible. In Prince William, rapid and poorly managed development have resulted in small remaining pieces of ecosystems so isolated that some species can no longer survive.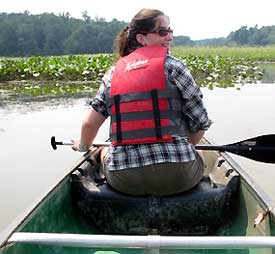 There are special concerns when accidents, such as the recent lime spill at Powell's Creek, damage Prince William's dwindling supply of quality natural resources. When PWCA funded the baseline ecological assessment, no one dreamed that a truck would malfunction and dump 27 tons of lime into Powell's Creek. With the U.S. Fish and Wildlife Service using the information to help assess damages from the lime spill, the study has already proven its value.
In the end, dilution may be the solution for pollution from the lime spill. Nevertheless, this accident damaged Powell's Creek. Fish and other aquatic wildlife were killed. Eagles, herons and other birds were damaged when poisoned fish were eaten. Plants and trees could suffer from the sudden change in the pH of the soil for a considerable time.
The U.S. Fish and Wildlife Service will decide what will be required to offset impacts from the lime spill at Powell's Creek. Over time, choices made by Prince William residents will determine the quality of Powell's Creek and other nature areas.
Pollution does not discriminate; we all need clean air and water.
Prince William's yearly survey consistently shows widespread citizen support for protecting natural resources and outdoor recreational opportunities. If we are not willing to set priorities and make investments to protect our natural assets, we can hardly expect commitments from others.