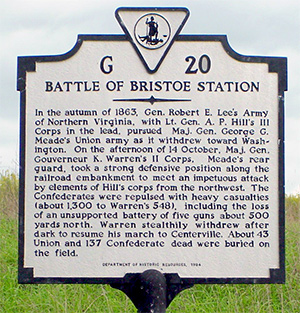 The October 14, 1863 Battle of Bristoe Station was one of the 123 times Union and Confederate forces clashed on Virginia soil during the Civil War. This battlefield site, where thousands of Confederate soldiers died and may still be buried, is located at the intersection of Route 619/Bristow Road and Route 28 in Prince William County.
On March 19, 2002, the Prince William County Board of Supervisors voted unanimously to approve Centex Homes' application to develop 520 mixed dwellings, 175,000 square feet of office and commercial space, and dedicate 127 acres as a Heritage Park to the Civil War Preservation Trust.
Two years later, on March 16, 2004, the Board of Supervisors voted unanimously, with Chairman Connaughton absent from the vote, to approve Centex Homes' application to rezone an additional 13.9 acres to develop 51 single-family detached dwellings, 3.67 units per acre, that was intended to be an integrated addition to the previously approved New Bristow Village.
More Information
News Articles

The maps below show the Prince William County approved preliminary site plan (left) and the plan submitted to the U.S. Army Corp. of Engineers (right) as part of the approval process for wetland and stream impacts. Click on the maps for a larger version.