Places Worth Saving: Silver Lake Park is a Destination for Birders, by Larry Meade, President, NoVA Bird Club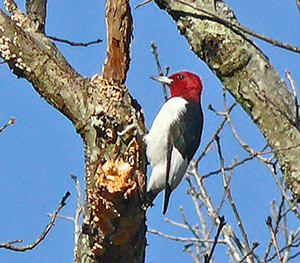 Tucked away in the northwest corner of Prince William County in Haymarket, Silver Lake Regional Park is a tremendous natural asset for our region. It has been open since 2009 and is designated as a passive recreation area.
In addition to its reputation for fishing and its nature programs for kids, the park is a well-known hotspot for birders. Birding groups including the Northern Virginia Bird Club, conduct several bird walks at Silver Lake every year.
The park is also part of The Plains Christmas Bird Count which is organized by the well regarded Clifton Institute in Warrenton, Virginia. According to Cornell University's data on their website, eBird, birders have seen 197 species of birds at Silver Lake since it opened. I have personally seen 128 kinds of birds there myself.
The diversity of habitat at Silver Lake is an important contributing factor that explains the large variety of birds that can be found there. Both the quarry and lake can have a nice variety of waterfowl in the winter. Once on a Christmas Bird Count, it was so cold that the quarry was one of the only unfrozen bodies of water in the entire count circle. The number and variety of ducks that sought refuge there that year was amazing.
Red-headed Woodpeckers are another attraction and can be found near the picnic area at any time of the year. The big sky over the park is great for watching hawks, falcons and Bald Eagles flying over. Warblers can be found in the picnic area and on the edges of the woods. The fields and successional forest areas are homes for sparrows.
Silver Lake Regional Park is a resource that we should continue to protect and improve. The Prince William Conservation Alliance has been one of the leaders in this effort with projects such as their recent tree planting event at Silver Lake. With continued community involvement, hopefully the park will be around for many years so that future generations can enjoy it as much as we do.