Implement Rural Area Tools and Incentives Now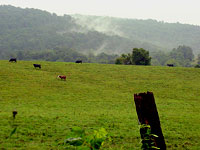 October 1 2018 -- The Prince William Board of County Supervisors has tools and incentives to protect farmland and green open space, if they choose to use them.
Planning staff has deferred consideration of revisions to current policies, which establish residential densities of one home per 10 acres and do not allow access to public sewer. The Rural Crescent is now expected to be re-started this coming spring, after the state legislature has met or possibly until 202, after the next election for County Supervisors.
Supervisors now have time to provide detailed information on how the County plans to provide adequate, sustainable, quality water for all existing and planned residents, businesses, schools and churches that are proposed for any change in zoning and planned development in the Rural Crescent of the county, as supported by the Virginia Code 15.2-2223 and 15.2-2224.
This delay also gives the County time to implement some or all of the list of rural area preservation tools promised by Supervisor in the Comprehensive Plan.
EN3.8 The County shall review and implement opportunities for a Purchase of Development Rights (PDR) program.


EN3.9 Explore the use of available federal and state funding resources, including grants, foundations, and transportation related funds, to support green infrastructure planning initiatives and a PDR program.


EN3.6 Make information on conservation easements available to landowners, including distribution points at the Tax Assessment Department and other relevant County offices, to encourage the use of open space/conservation easements as tools to preserve environmental resources.


OS 4.1 Review and implement programs, including the purchase of development rights (PDR), transfer of development rights (TDR), and outreach highlighting opportunities available through private conservation easements in order to protect existing open space.