The Prince William County Rural Crescent
From the Potomac River shoreline to Bull Run Mountain, we are one Prince William.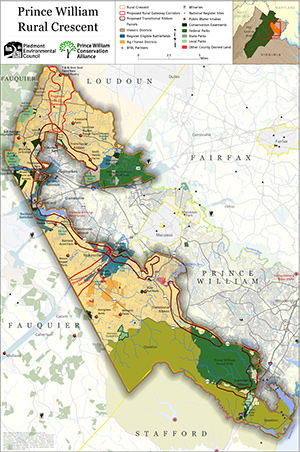 In 1998 the Prince William County Board of Supervisors adopted a Comprehensive Plan that, for the first time, formally established an Urban Growth Boundary.
The intent was to strengthen the County's capacity to control urban sprawl by defining an area that was available for higher density development and a protected rural area, which quickly became known at the Rural Crescent.
Currently, the Board of County Supervisors is poised to initiate a process intended to revise the rural area policies that allow the County to achieve these goals.
The expected September 2016 Initiation of a Comprehensive Plan Amendment to reconsider Rural Crescent policies would create a comprehensive threat, opening the door for increased densities and the extension of infrastructure including public sewer.
Threats to our rural area are numerous and often driven by outside interests seeking short-term gain, to the detriment of citizens countywide. According to the County's own 2014 Rural Preservation Survey, the vast majority of residenets support preserving the Rural Crescen.
The County's 2014 Study recommends a new "transitional ribbon," shown in red on the above map, where access to public sewer is proposed and properties could thus accommodate higher densities. This means thousands of acres would essentially be removed from the Rural Crescent, to the detriment of farmland/open space preservation efforts and increasing the need for taxpayer funded schools, roads, and other public infrastructure. The intent of the "gateways" identified in the Study and shown on the map, is currently unknown.
However, the 2014 Study also prioritizes rural preservation tools, such as a Purchase of Development Rights (PDR) program.
In a PDR program, government agencies (sometimes with other partners) reduce the number of houses that could be built in an area by purchasing the development rights from private landowners. After development rights are purchased, the parcels are permanently protected from new development.
PDR programs are voluntary; purchases are made only from willing sellers and no one is compelled to sell. The state of Virginia provides some funding to local governments to purchase development rights. The Military Encroachment Partnering Program offers 50% of the cost to purchase development rights for properties around the border of military bases, such as Marine Corps Base Quantico.
Prince William County has numerous options to strengthen the Rural Crescent. At PWCAs July 6 2016 Forum, Brentsville Supervisor Lawson shared several strategies, including goals for contiguous green space, expanding agribusiness activities and purchasing development rights.
Public input is critical to effective planning policies. Changes to Rural Crescent policies would affect residents throughout the county. Currently citizens have access to little information on the current effort to revise Rural Crescent policies.
From the Potomac River shoreline to Bull Run Mountain, we are one Prince William. These important decisions affect us all. We support increased protections for the rural area to benefit citizens county wide.