How to Preserve the Rural Area (And Keep Property Taxes Low in Prince William County)
by Charlie Grymes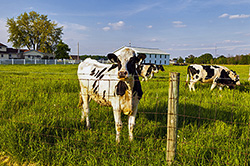 For 15 years, Prince William County has consciously steered most development to the Development Area. Within the Development Area, current planning/zoning will permit development of new houses for the 150,000 new residents expected to arrive by 2030. There is enough undeveloped land within the Development Area, already planned/zoned for new construction, to absorb 20 years of population growth.
Still, some developers are not satisfied. They see an opportunity to bend the rules to their advantage, creating short-term profits while imposing long-term costs on county taxpayers. A few developers want to buy land in the Rural Area, then get county supervisors to rezone the property to permit denser development.
Buying land by the acre and selling it by the square foot could generate a quick profit for a few people. However, scattershot development throughout the Rural Area would require taxpayers to build unplanned schools, fire/police stations, and other public facilities, increasing property taxes forever.
Low-tax advocates want to maintain the logical, planned development in the county, with development steered to the Development Area. Conservationists want to protect open space and streams in the Rural Area, providing wildlife habitat and helping Prince William meet its obligations to send clean water downstream to the Chesapeake Bay. Farmers interested in for-profit agriculture want to preserve opportunities in the Rural Area to lease/acquire enough land to make a farm operation economically viable.
The county has multiple opportunities to partner with state, Federal, and non-government organizations to ensure the continued success of the Rural Area. For example, Quantico Marine Corps Base has already demonstrated its willingness to fund conservation near the base, in order to minimize suburban "encroachment" that would affect military operations. The Marines provided 50% of the money to acquire the 300-acre Merrimac Farm Wildlife Management Area, and might be willing to participate in purchase of development rights to provide a buffer near the base.
Everyone who cares about keeping property taxes low, conserving streams and open space, and maintaining commercial farming in Prince William should share their priorities with the county, as it conducts the Rural Area Preservation Study.