Is This Land Your Land?
Discussions around why African Americans and other People of Color might not think so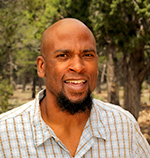 Monday, July 6, 7pm, online meeting
Free, RSVP required! Use this link to register and receive instructions to join the meeting.
Contact Kim Hosen, alliance@pwconserve.org, pwconserve.org
Sponsored by Prince William Conservation Alliance with the NAACP Prince William, Todos Supermarket, Northern Virginia Community College, Virginia Native Plant Society, Unity in the Community, Coalition to Protect Prince William, Prince William County Parks, Wetland Studies, and the National Park Service Prince William Forest Park.
Please join us for a community conversation with Dudley Edmondson, photographer, outdoor advocate, and author of Black & Brown Faces in America's Wild Places: African Americans Making Nature and the Environment a Part of Their Everyday Lives
Agenda
This Land is Your Land performed by Patrick Kozub


Welcome, introductions, housekeeping with Kim Hosen, Prince William Conservation Alliance, and Rob Johnson, Northern Virginia Community College


Green parkland in PWC with Seth Hendler-Voss, PWC Parks, Recreation and Tourism


Why we are here with Carlos Castro, Todos Supermarket, and Sonnie Cuffey, NAACP


How We Got Here with Dudley Edmondson, presentation followed by conversation


Benefits of Green Open Space with Dudley Edmondson, presentation followed by conversation


Close